---

Look at the stage at WRC speed now. Download complete stage for installation of Jemba Stage Video on a Windows computer. (550 MB)
---
---

Look at the stage at WRC speed now. Download complete stage for installation of Jemba Stage Video on a Windows computer. (550 MB)
---

It is a nice gravel stage! Look at the stage at WRC speed now. Download complete stage for installation of Jemba Stage Video. (244 MB)
---

AND it is used as Power Stage! Look at the stage at WRC speed already now. Download Power Stage from Neste Oil Rally Finland 2012 including vocal pacenotes with Jemba Virtual Co-driver and much more. (845 MB)
All stages available on request.
---
All stages available on request.
---
All stages available on request.
---
---
Power Stage from RACC Rally of Spain 2011
Including vocal pacenotes with Jemba Virtual Co-driver.



---
---
Check out an advanced combination of video, pacenotes, Virtual Co-driver, maps and more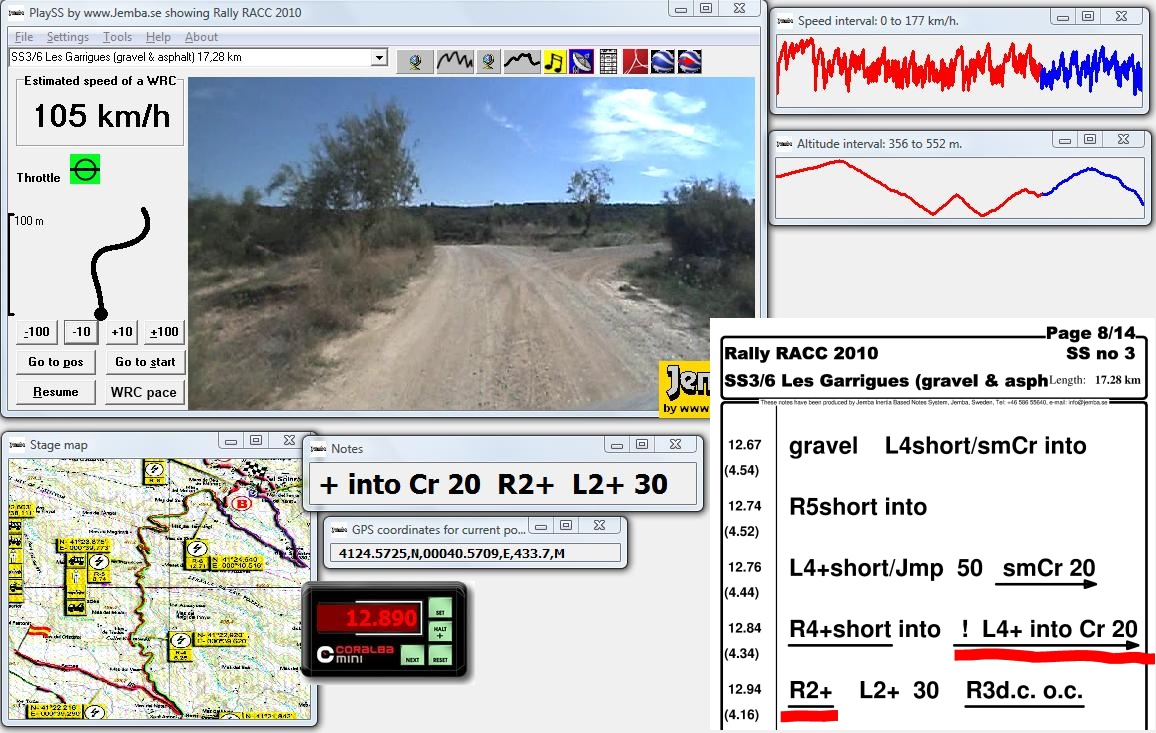 Download to run complete PlaySS including virtual co-driver and run the power stage at WRC speed with Jemba Inertia Based Pacenotes from any of the WRC events below. Windows operating system is required. Apple users may run it in a virtual Windows machine

All stages available on most events.

Power Stage for Rally Portugal 2011 is too big to download
---
See Super Special Stage (122 MB) from Rally Sweden 2011 from the driver's seat at competitive speed with Jemba Stage Video. Also check out the notes and listen to the virtual co-driver.

The download includes complete program to run on a Windows operating system (122 MB)





PlaySS - An advanced combination of video, pacenotes, Virtual Co-driver, maps and more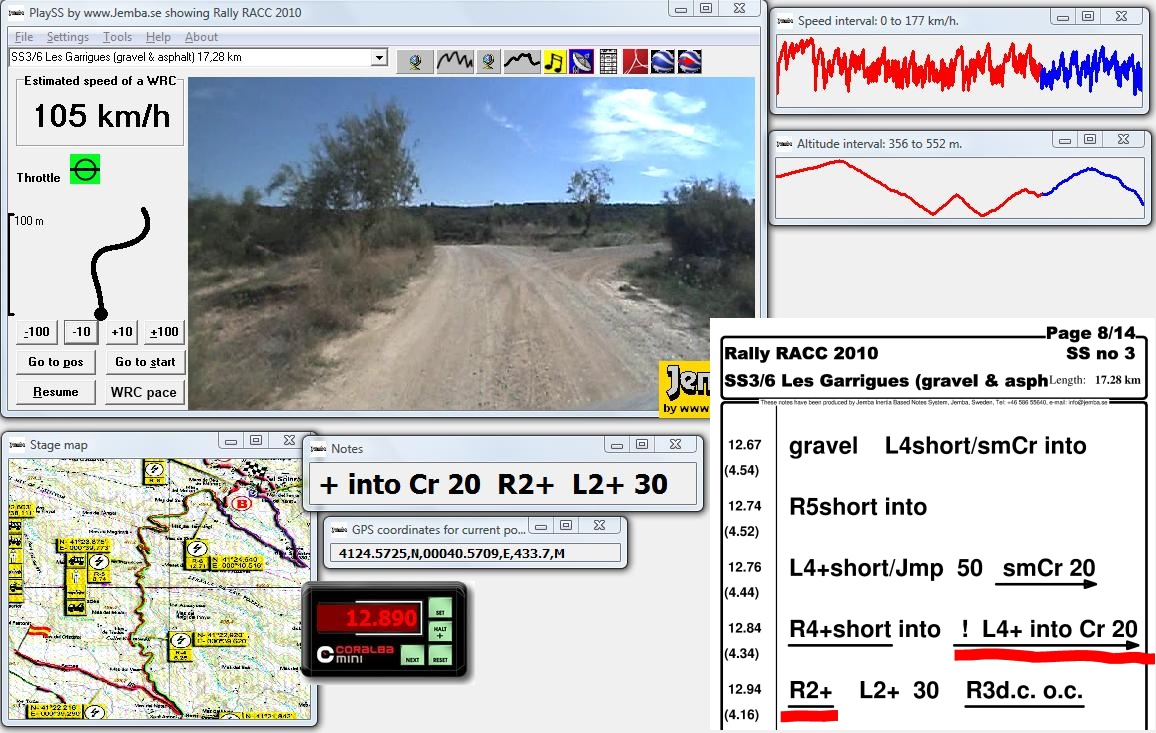 ---
---
Sample stages from RACC Rally of Spain 2010
Demo including vocal pacenotes with Jemba Virtual Co-driver. Parts of stage 3 WRC Spain 2010.


Stage 14/16 WRC Spain 2010.


Stage 7/10 WRC Spain 2010. Km 0 to 10


Stage 7/10 WRC Spain 2010. Km 10 to 19.6


Stage 7/10 WRC Spain 2010. Km 19.6 to Finish


Demo of system. Stage 3/6 WRC Spain 2010.

---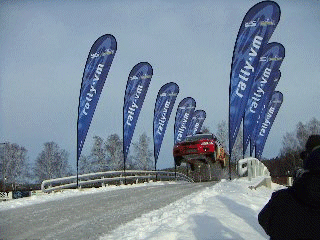 ---
Jemba is the sole world-wide distributor for Coralba , the leading producer of rally computers or odometers since the famous Halda disappeared from the market.

Developed with the assistance of the WRC rally teams they are designed to be simple to use and work on any rally stage in the world, whatever the conditions. They work as good for a pro rally as for a TSD rally. The co-driver will perform his outmost with these tools.

The electronics are the latest technology with surface mounted devices produced by an automatic production line. These factors ensure the best quality and reliability.
The specially designed aluminium housing makes the instrument small and easy to install into your rally car. At the same time the weight is low as all electronics is put together into one compact unit.

With twenty years of experiance you can rely upon Jembas quality tested and proven instruments time after time. It is easy to understand why all World Rally Championship teams use our products to help them with their winning performances.

Click at one of the images to the left to discover all facilities, or just download a users manual.
GPS controlled tripmeter
Jemba has now available a GPS Speed Sensor for any of the rallycomputers from Coralba.
We can now introduce a recce set which is installed in any car in 5 minutes.
It picks up its speed information (no coordinates) from the satellites in the GPS system. Therefore your rallycomputer doesn't need any connection to a speed sensor in the car and also doesn't need any calibration.


---
Compare notes from different countries, events or users.
---
Also available is a system to create personal pace notes or organizer's pace notes for rallies. It is available in different versions and has been used for years in Sweden, Finland, Norway, USA and New Zealand for official notes in their championships.
Jemba Inertia Notes System is the most advanced sytem available. It gives a consistent set of notes from a fully inertia based system. The operator collects data about the stage by driving at normal speed. A laptop computer creates the notes automatically according to an individual setup. Any type of notes can be created. Furthermore the notes may be printed in any user defined type of system.
A combination of Jemba Notes and PlaySS create a complete set of MasterNotes for special stages.


---
Compare notes from different countries, events or users.
---
With Jemba Inertia Notes System is available a virtual co-driver. It was succesfully used at Pikes Peak International Hill climb in 2002 by former World Rally Champion Stig Blomqvist. The Notes System lets you specify your car and makes a simulation of your run so that the notes will be called by the computer at the exact positions, in respect to your personal requirements and position/speed.
The Virtual co-driver is also integrated in PlaySS.


---
If you have a C-giant with connector for C-view you may download a program which analyses your setup and make corrections if needed.

The purpose is to work with the setup of the tripmeter.
Certain setup error indications on the tripmeter will be taken care of automatically by this program.
You may carry out the following operations:

- Diagnostics tests
- Save backups for complete set-ups in the computer
- Restore set-up
- Automatic detection of some failures and an automatic cure
- Get info about odd (unintended) settings
- Change set-up
- View complete set-up, including a graph of fuel calibration, with evaluation of the installation
- Export/import data sets between computers

To use this program you need the following:

- C-giant with view connector
- computer with Win 2000 or XP and at least one COM port (Nr 1..9)
- computer interface for C-giant (Part number DK151j)


Download diagnostics program install file (Rel 2.3 March 30 2006)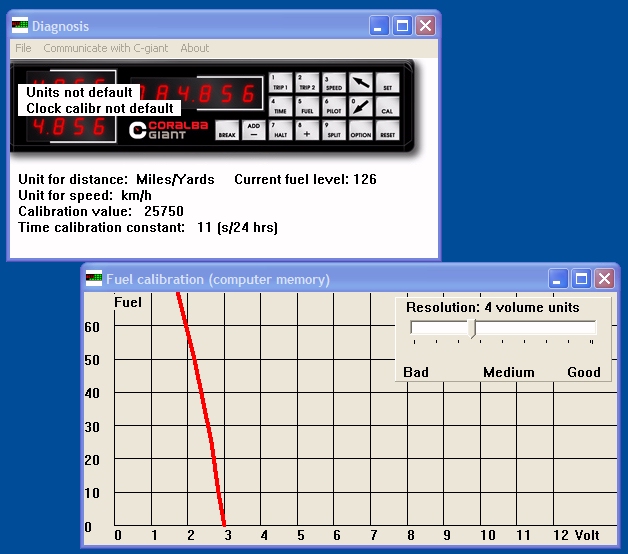 ---
Jemba was engaged by the management of the Uddeholm Swedish Rally to design Karlstad Super Special Stage inside a horse race track in Karlstad. Very high requirements were set for the design to make it as interesting as possible for spectators, at the same time as it must be challenging for competitors within safe limits. High technology simulations had to be carried out to meet these standards.
The simulations were a combination of basicly two different types which run through several iterations. Phase one consists of simulated runs on hypothetic circuits to get a design where some basic requirements will be fulfilled:

- Right and left start position must give same lap time
- Halfway and cross-over points will take place simulaniously for both cars, making it possible for spectators to see who is in the lead.
- Both cars must have close to same speed when passing halfway and finishing line.
- Circuit must be a mix of fast and slow sections, with some challenging spots.

First phase is done with the proven Jemba Inertia Notes System. It gives input data for design of two jumps, over and under a 3.3 m high bridge at the cross over point. Some critical requirements were set for these jumps:

- All cars at reasonable speed must jump.
- Even at maximum speed cars must have a relatively comfortable landing.
- Even at maximum speed over the biggest jump the following corner should be easy to negotiate.
- Jumping distance over the big jump is to be extended as much as possible.

A computer program was developed to simulate the dynamic behaviour of cars at different speeds. Together with inputs from Jemba Inertia Notes System the profile of the two jumps were designed to meet the specifications.

The circuit has now been built and tested. It was found meeting the high requirements. Check video.


---
We help the Champions to go faster

Jembas products

Mail to Jemba

Last updated: January 18th 2018

---